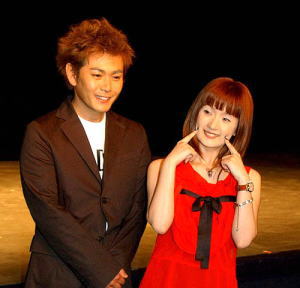 Chiaki (千秋?), name Chiaki Fujimoto (藤本 千秋, Fujimoto Chiaki?, born October 26, 1971), is a Japanese talent whose career ranges from singing, baby clothes designing, to voice-acting etc.
Biography
Edit
Chiaki was born in Maizuru, Kyoto on October 26, 1971 as the daughter of the chairman of Nippon Sheet Glass. Due to her father's job, she moved to Ichihara, Chiba soon after her birth. At the age of three, she started to take piano lessons, and continued for twelve years until she graduated from middle school. Although acting as a weird childish girl is her show business image, she is in fact known as a very well-mannered business person, as a result of exchanging letters with her mother who taught her etiquette when she was around 9 years old. At middle school she practiced Kendo as part of a school club.
In 1991 she won first place in a tarento audition TV programme hosted by Fuji TV. Afterwards, she played Nontan's voice, and also sang the opening song for the same popular anime about a cat. She became a successful singer as the lead vocalist of "Pocket Biscuits", formed as an instant music trio in a popular reality-show-like comedy programme hosted by a comedy duo "Ucchan Nanchan" in 1995. The group's second single "Yellow Yellow Happy" sold a million copies. In 1998, the trio performed their hit number at the annual New Year's Eve music show Kohaku Uta Gassen, with a rival music trio "Black Biscuits" featuring Taiwanese actress Vivian Hsu. They made two more million selling records but decided to cease their singing career in 2000.
Chiaki married Shōzō Endō, of the comedy duo Cocorico, in July 2002. However, they divorced in December 2007. They have a daughter, born in 2003.