Cocorico (ココリコ, Kokoriko), also romanized as Coq au Rico, is a Japanese comedy duo (kombi) consisting of Endō Shōzō (遠藤 章造) and Tanaka Naoki (田中 直樹). They are best known for making up the cast of the popular and long-running variety show, Downtown no Gaki no Tsukai ya Arahende!!.
It is unclear whether Cocorico or Coq au Rico is the official romanization when referring to the kombi. While "cocorico" is the correct French spelling, their namesake spells it "coq au rico." The former is the romanization most often used in the English-speaking fandom.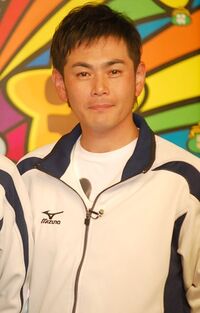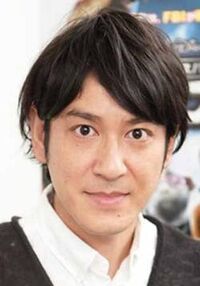 Endō Shōzō

Born July 13, 1971 in Toyonaka, Osaka. Plays the tsukkomi. Married tarento Chiaki in 2002, but divorced in late 2007. Has one daughter, Iroha, born in 2003. He remarried in 2015.

Tanaka Naoki

Born April 26, 1971 in Toyonaka, Osaka. Plays the boke but is the leader, and writes all of their material. Married actress Shie Kohinata in 2003 and has two sons, born in 2004 and 2008. Their divorce was announced 2nd of May, 2017.
Dynamite Shikoku - Endō's alter-ego
Both born in 1971 and raised in Toyonaka, Osaka, they formed in 1992 at Yoshimoto Kōgyō when Endō quit his mundane job as a salaryman and invited his childhood friend Tanaka to join him as a duo. They named themselves after a cafe in Osaka called "Coq au Rico," a variant spelling of the French onomatopoeia for the crowing sound a rooster makes. Their name at first was "Cocorico Bombers," until they were advised to shorten it.
Cocorico's subtle humor went unappreciated by most comedians, until it caught the attention of Matsumoto Hitoshi of the comedy duo Downtown. In 1997, they became regular members of the show Downtown no Gaki no Tsukai ya Arahende!!, where they made their big break.
Ikinari!Ōgon Densetsu (いきなり!黄金伝説。) (TV Asahi, since 1998)
Cocorico Miracle Type (ココリコミラクルタイプ) (Fuji Television, 2001-2007)
Fujiriko (フジリコ) (Nippon Television, 1999-2002)
Cocorico Million Kazoku (ココリコミリオン家族) (TV Tokyo, 2006-2008)
Otoriko! (音リコ!) (Nippon Television, 2007-2008)
Community content is available under
CC-BY-SA
unless otherwise noted.