Ayako Nishikawa(西川史子 or にしかわあやこ) (5 April 1971) is a Japanese female TV star as a tarento and comedienne and a cosmetic surgeon. She is unusual in Japan in that she is willing to appear on television, as professional doctors generally show some hesitancy to appear.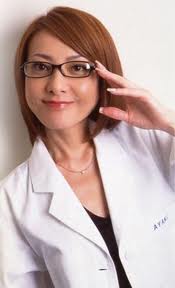 Early years
Edit
Ayako was born in Sagamihara on 5 April 1971. Her father is also a doctor and runs his own hospital in her hometown.
She had her school life in Toin Gakuen high school, and St.Marianna University School of Medicine.
In her student life, she was selected one of the winners of "Miss Nippon", the most famous beauty contest in Japan, in 1996.
After having finished her medical education and graduated from school, she has been acting as a TV presenter with knowledge of medical caring and curing.
Behaviors and characteristics as a TV talent
Edit
Her advanced presentations make herself "very hysterical and sometimes insane actress". And this tactics is prevalent in Japanese TV stars' circles, so we find the same tendency in Aoki Sayaka's TV presentations.
Her consciousness about the limits of the tactics is making a subtle change in her TV behavior.
TV programs
Edit